A US military convoy just south of Baghdad collided with a minibus full of Iraqi civilians, killing at least five and wounding between seven and eight. Three US soldiers were also reported wounded in the crash.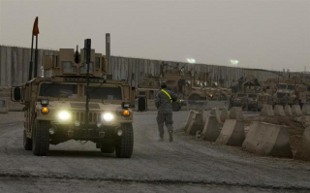 The crash was immediately shrugged off by the National Guard combat team involved as a "tragic accident," but several local reports insist that the US convoy was driving on the wrong side of the road before the collision.
The family in the minibus was traveling from Baghdad to Najaf to attend a funeral, and women and children were said to be among the casualties in the collision.
Since the 2003 invasion, a growing number of reports have emerged on incidents in which US military convoys recklessly endangered and sometimes even killed civilians on Iraq's highways. Though the details of today's wreck still need to be confirmed, the report of driving on the wrong side of the road will strike many Iraqis as completely plausible.
Last 5 posts by Jason Ditz