Hundreds took to the streets of Ramadi today, demanding that the Iraqi government sever all ties with Iran and insist on an official apology for its "interference." The rally was spurred by last weekend's border row but did not appear limited to this.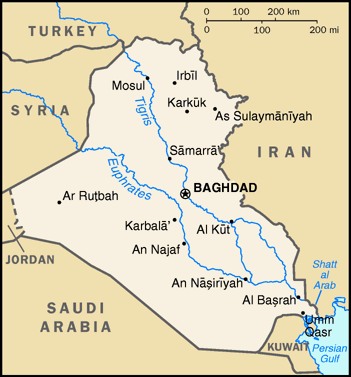 On Friday a handful of Iranian forces took up a position at an oil well along the ill-defined border between Maysan Province and Iran. Iraqi forces massed in the region before the Iranian troops left the well.
Iran insists the soldiers were only there to remove a barricade illegally installed by Iraqi forces before. They maintain that the well is in Iranian territory, while the Iraqi government insists it is on their side. The two nations have been unsuccessfully negotiating the mutual development of the field.
Tensions have died down but not faded entirely, and the Maysan provincial officials say the Iranian troops remain on the Iraqi side of the border. Iran, obviously, insists the position is in Iranian territory.
Unlikely despite the protests, the withdrawal of all ties to Iran could be ill-timed, as Iraq has already severed all ties with its neighbor Syria. Losing ties to two neighbors could damage the nation's efforts to repair its image and assert itself as something other than a US colony.
Last 5 posts by Jason Ditz