One day after Baghdad suffered its third massive coordinated bombing attack in less than five months Lieutenant General Abboud Qanbar, the head of Baghdad security, was ordered removed from office. He will be replaced by deputy chief, Lieutenant General Ahmed Hashem Ouda.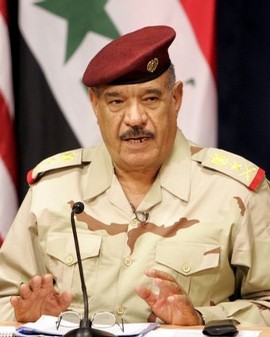 Lt. Gen. Qanbar
Prime Minister Nouri al-Maliki called for the Iraqi public to stand behind security forces after the attack, but the anger was palpable after yet another major security lapse, and the Iraqi parliament is calling for mass resignations among the security apparatus.
Parliament has been trying to get the Defense Minister and Interior Minister to appear and discuss security since the August bombing, and the calls intensified again after the October bombing. Interior Minister Bolani suggested today that he will address parliament, but only if the session is public.
The US, which still has around 120,000 soldiers in Iraq, says that it does not expect to step up its security role as a result of the bombings, but will only continue to provide what support is requested by the Maliki government.
Last 5 posts by Jason Ditz