With just four days left in his term of office, International Atomic Energy Agency (IAEA) chief Mohamed ElBaradei lashed out at the Iranian government, declaring that their ongoing probes "have effectively reached a dead end, unless Iran engages fully with us."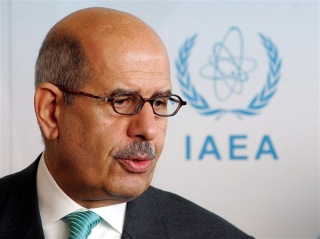 Mohamed ElBaradei
ElBaradei also expressed disappointment that the Iranian government didn't immediately accept the draft third-party enrichment deal. Iran has called for more talks on the issue and is seeking guarantees that Western nations, notably France, will follow through on their part of the deal.
Though the IAEA has repeatedly certified that Iran is not diverting any of its uranium to non-civilian purposes and both ElBaradei and his replacement, Amano Yukiya, say there is no evidence that Iran has any nuclear weapons program, "issues of concern" reportedly remain unresolved.
Notable among those are allegations about missile delivery systems for a hypothetical nuclear warhead. Iran has declined to provide details about its missiles, insisting that the IAEA has no reason to pry into the nation's conventional arsenal.
Last 5 posts by Jason Ditz