In comments likely to further damage Blackwater's already shoddy reputation, four former company executives have confirmed that company president Gary Jackson approved $1 million in bribes to be sent to Iraqi officials.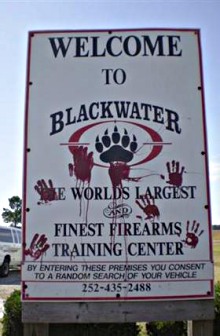 The bribes were sent following the September 2007 Baghdad massacre, in which company employees killed 17 Iraqi civilians on them streets of the Iraqi capital, and were meant to stem criticism from top Iraqi officials.
The executives confirmed that the money had been sent to Iraq from the company's Amman, Jordan office, but they did not know whether it was ever actually delivered to Iraqi officials, or who those officials might have been.
The bribes were ostensibly to protect the company's license to operate in Iraq, operations which netted the company an estimated several hundred millions of dollars. This was ultimately fruitless, however, as public outrage over the massacre led the Iraqi government to refuse to renew the company's contract in January 2009.
On the other hand, though their presence is technically against the law Blackwater, which has since renamed itself Xe to escape its shady past, has remained operating in Iraq, as the State Department claims its chosen replacement simply isn't ready.
Last 5 posts by Jason Ditz