The Israeli Navy captured an Antiguan ship today near the island of Cyprus, which officials are touting as the largest capture of arms ever by the Israeli military.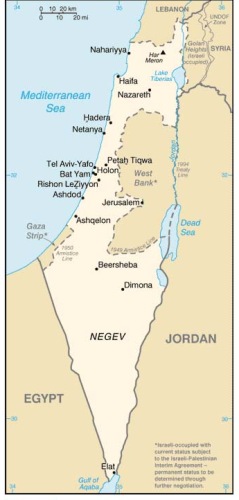 Israel officials claim that the ship was loaded down with weapons sent by the Iranian government to Hezbollah to use against Israeli civilians, though the only evidence they presented to back up this claim was that some of the shipping containers found on board had "Iranian Shipping Lines Group" written in English on them. The Israelis also claim to have proof the ship left Iran and was heading to Syria, though they did not release this proof publicly.
Israeli diplomats have been ordered to use the capture of the ship to rally international support against the Iranian government. Israeli embassies across the world have been ordered to issue press releases accusing Iran of turning the Mediterranean Sea into a terrorist base.
The Iranian government denied the allegations and insisted the ship was heading to Iran, not from Iran, and that it was carrying Syrian goods on board. The UN has insisted it has no evidence of ongoing arms smuggling to Hezbollah.