In an interview today on CNN designed to convince Americans that he is a more suitable partner than incumbent President Hamid Karzai, Afghan opposition candidate Abdullah Abdullah called for a "dramatic increase" in the number of American forces in the nation.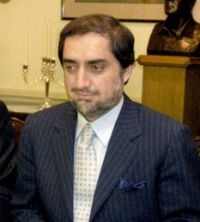 The call comes roughly a month after President Karzai publicly endorsed General Stanley McChrystal's plan for escalation in the nation, saying it was "the right approach."
This puts both candidates in the November 7 runoff squarely on the side of escalation, and it's not difficult to imagine why this would be. As popular support erodes and the Taliban increases its control over the nation the international military presence is about the only thing backing the existing government.
Gen. McChrystal is seeking an additional 80,000 troops for the ongoing war, and is going to great lengths to lobby for his plan. It is unclear how the US will come up with all of these new troops to send, and after the March escalation failed miserably it is unclear why officials remain convinced throwing more troops at the nation will eventual yield stability.
Last 5 posts by Jason Ditz