Pakistan's English-language newspaper The Nation has published an article today harshly critical of Husain Haqqani, Pakistan's Ambassador to the United States, over his role in the creation of the controversial Kerry-Lugar aid bill and his role in defending the bill in the American media.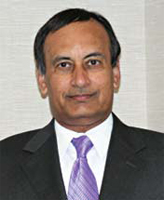 Husain Haqqani
Haqqani has been under growing fire after reports emerged last week that he had used a US lobbying firm, which is paid millions of dollars by Pakistan's government, to insert the language into the bill critical of Pakistan's military. Haqqani has reportedly been used as the source for several articles in the US press accusing the Pakistani military of "manipulating" the entire opposition to the bill.
The aid bill has seen growing opposition not just from the military but from much of Pakistan's opposition for clauses establishing US oversight over the Pakistani military and court system. The US denies that it is intended to use the clauses, but Haqqani's role in inserting them in the first place has led to calls for his ouster. The Nation's report says that if that happens, Haqqani has threatened to release "reams" of official documents embarrassing to the Zardari government.
According to Pakistan's state media, Haqqani has reacted with outrage to The Nation's article, suing the paper for 1 billion rupees (around $12 million American) and demanding an unconditional apology. He is also threatening to see criminal action taken against the paper for publishing the article.
Last 5 posts by Jason Ditz