Following the furore over last week's surprisingly candid speech by Gen. Stanley McChrystal, in which he mocked Vice President Biden's advice to Obama as a "recipe for Chaos-istan," Secretary of Defense Robert Gates advised that everybody keep their mouth shut about what they wanted.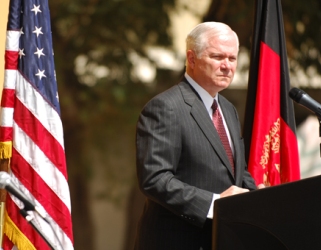 "It is imperative that all of us taking part in these deliberations – civilians and military alike – provide our best advice to the president candidly but privately," Gates insisted.
Ironically enough, the secretary wasn't finished talking, as he then said the reason the Taliban was doing so well in the war was because the US hasn't committed enough troops to Afghanistan, a nod to reports over the weekend that he was going to endorse the McChrystal Plan.
Though it is not unusual for civilian leaders to make their positions known, Gen. McChrystal has been unusually aggressive in lobbying for his escalation, and unusually willing to attack the advice of others.
Last 5 posts by Jason Ditz