With just a week left before the ostensibly "landmark" talks between the Iranian government and the US and five other UN Security Council members, speeches from both Presidents Obama and Ahmadinejad suggest there is little prospect for any serious deals coming out of the meeting.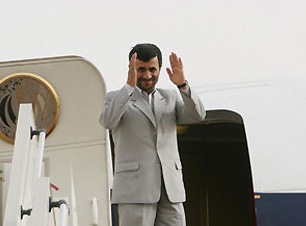 Obama again presented Iran as a nation "that refuses to live up to their obligations" and insisted that they must face consequences. The US has been campaigning for harsh new sanctions against Iran despite the upcoming talks.
In his speech, President Ahmadinejad again noted that Iran's activities are "under the watchful eyes of IAEA inspectors" and criticized the US and others who have used nuclear technology to "non-peaceful ends" for objecting to Iran's civilian program.
The comments appeared to offer nothing new, but rather underscored how little the positions of either side have changed. The US continues to insist that Iran is pursuing nuclear weapons despite their own intelligence agencies saying this is not the case, while Iran says it will never abandon its civilian program.
Last 5 posts by Jason Ditz