Citing information gained from informers, anonymous Pakistani officials say they believe a pair of "al-Qaeda commanders" were killed in US drone strikes in North Waziristan earlier this month.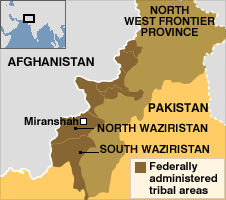 Among those reported slain was Ilyas Kashmiri, a veteran of the anti-Soviet movement in Afghanistan who had previously been named as the leader of an ISI-backed militant group fighting against India in Kashmir. Kashmiri was arrested in 2004 for an attack on then-President Pervez Musharraf, though it is unclear how he went from being the leader of a relatively obscure Kashmiri militant outfit to a "top al-Qaeda commander."
The other named militant was a previously unknown Uzbek identified only as Nazimuddin. The two were said to be killed in the September 7 and 14 air strikes, respectively.
The reports of slain militants appear to be an attempt to quiet the growing outcry in Pakistan over the rising number and intensity of US drone strikes on Pakistani soil.
Last 5 posts by Jason Ditz