Iraqi Prime Minister Nouri al-Maliki is being accused of having ulterior motives in his ouster of several key security officials over the past few days, with members of the opposition suggesting that he was attempting to consolidate his position in a grab at "quasi-dictatorial' powers.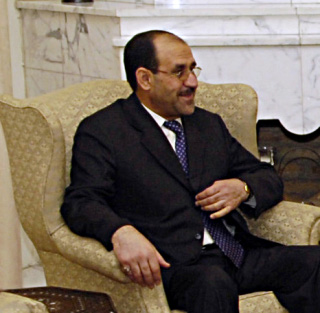 The ousters of the high ranking generals in the Interior Ministry were explained away by the Maliki government as "reassignments" as a result of last month's deadly Baghdad bombings, a public embarrassment for Maliki just months before the January election.
But the move also purged some of the closest allies of Jawad al-Bolani, the Interior Minister and very likely one of the major candidates to replace Maliki after the vote. Though MPs concede that Maliki was perfectly within his legal rights to oust the generals, it is seen by many as a particularly dirty move aimed primarily at weakening Bolani before the vote.
Maliki has previously expressed an interest in limiting the power of Iraq's Sunni and Kurdish minorities, and with most of the nation's Shi'ites parties united in an opposition bloc Maliki's Dawa Party may well face an uphill battle for reelection. But assuming the Dawa Party's provincial voting strength continues into the national elections, the prime minister could quickly find himself a hugely powerful leader.
Last 5 posts by Jason Ditz