As tensions continue to rise over the Georgian military's attempt to enforce a naval blockade around the tiny Republic of Abkhazia, Abkhaz officials are now threatening to sink any Georgian ships which enter into their territorial waters.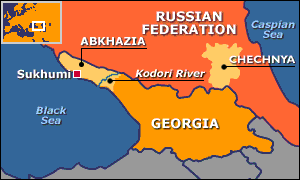 Sergei Bagapsh, the President of the small Black Sea enclave, said the move was made necessary by the blockade, which he likened to the rampant piracy along the Somali coast. Georgian officials insisted it was an "empty threat" and that the blockade would continue.
Though Abkhazia has exercised de facto independence for years, the Georgian government has sought to punish them for their declaration of formal independence after last year's brief Russo-Georgian War. Last month the Georgian Navy captured two ships, including a tanker delivering fuel to Abkhazia.
The capture of the ship had led the Turkish company which had been supplying much of Abkhazia's fuel to announce it would send no more, though recent deals between Abkhazia and the Russian state oil company may provide a more reliable source of fuel, and one which the Georgian military is unlikely to be able to halt.
Last 5 posts by Jason Ditz