At least 14 people and possibly quite a few more were killed today when the forces of a tribal warlord allied with the Pakistani government clashed with tribes loyal to Tehreek-e Taliban Pakistan (TTP) leader Baitullah Mehsud.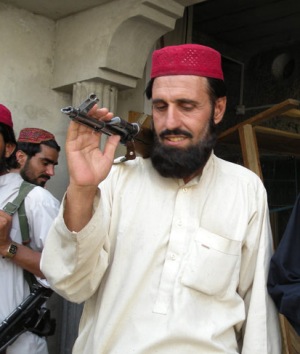 Turkistan Bhittani
The Pakistani government ordered the warlord, Turkistan Bhittani to seize control of two remote South Waziristan villages to ensure that the TTP forces could not enter them. The Bhittani forces are reported to have met heavy resistance and suffered significant losses, though they claim to have secured key hilltops in the area.
According to Bhittani the clash was quite a bit bigger than is being officially reported. He has been quoted as telling reporters that 70 were killed in the clash, that there were 90 total casualties, and that more than 40 houses were destroyed. He claims the fight started when the Mehsud tribesmen attacked. Pakistani officials say that the TTP also launched mortar attacks on Bhittani's home village.
US envoy Richard Holbrooke claimed that the TTP is in utter disarray following the death of Baitullah Mehsud, which he said they were "90 percent certain" is actually dead. TTP officials have denied Baitullah's killing in addition to the deaths of multiple other leaders.
Last 5 posts by Jason Ditz