The Democratic Patriotic Alliance of Kurdistan, the umbrella group encompassing Kurdistani President Massoud Barzani's Kurdistan Democratic Party (KDP) and Iraqi President Jalal Talabani's Patriotic Union of Kurdistan (PUK) parties has won reelection in a hotly contested election in the largely autonomous region, but the success of the opposition "Change List" may have broad ramifications for a bloc which until now had held a virtual stranglehold on regional politics.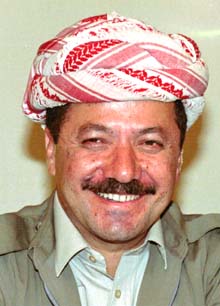 Massoud Barzani
In the 111-seat Kurdish Parliament, the bloc previously held 104 seats. Following the election they now hold only 59 seats, a majority but one that will have to contend with the 25 seat minority that seems poised to fight the ruling coalition and the 13 seat leftist-Islamist Services and Reform bloc has suggested it may join them.
The Change List is made up largely of former members of the ruling bloc, and ran on a platform of stopping the endemic corruption and nepotism in the Kurdistan Regional Government. Under the current Kurdish Constitution, any party with at least 10 seats in parliament can summon ministers, and the Change List has promised to do exactly that, and often.
Yet Mahmoud Mohammad, a top member of the KDP's politburo, says that dissent will not be tolerated. This may have been easy to ensure when there were only seven members of the opposition, but will almost certainly ensure that the next government has its work cut out for it.
Last 5 posts by Jason Ditz