Roughly 1,500 Israelis attended a pro-settler, anti-Obama in front of the home of Israeli Prime Minister Benjamin Netanyahu in Jerusalem today, at which rabbis condemned President Obama as a "racist" and predicted that his demands that Israel halt its settlement growth would lead to the disintegration of the United States.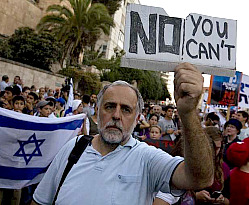 At least three members of the Knesset (Israeli Parliament) were involved in the rally, which culminated in the protesters marching toward the US Consulate, waving torches and chanting for US envoy George Mitchell to "go home."
The protesters expressed outrage at US criticism of the West Bank settlements, with one of the speakers caution that President Obama's "insolence" would bring about his ruin. They urged Netanyahu to fulfill his campaign promises to support the settlements, instead of worrying about US pressure.
The Obama Administration has called for a Palestinian state, albeit one with severe restrictions, and has sought to restrict Israeli settlement growth, despite Israeli claims that they had secret "understandings" with the Bush Administration, though Bush-era officials appeared to disagree over whether such a deal actually existed.
Last 5 posts by Jason Ditz