Backed by African Union troops, the Somali government launched an offensive today in northern Mogadishu, sparking clashes which officials and residents say has killed at least 40 rebels and 3 soldiers. Civilian tolls were as of yet unclear, but generally such fighting produces significant civilian casualties.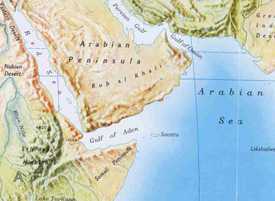 The offensive was part of the latest attempt by the Somali government to stave off what seems to be its inevitable loss of what few segments of the control remain under its control. Deputy mayor Abdifitah Shawey said that the insurgents had taken territory to the point where they "were only one kilometer" from the presidential palace.
Battles between the government and the al-Shahaab insurgency for control over the capital city and assorted towns in the middle of the nation have continued intermittantly, with government forces shelling residential areas and driving enormous numbers of civilians from their homes.
Opposition to the self-proclaimed Somali government has reportedly driven dozens of Somali-American youths into the insurgency. The US has backed the Somali government and the 2006 Ethiopian invasion which brought them what little control over the nation they have ever enjoyed.
Last 5 posts by Jason Ditz