The Organization of American States (OAS) today ruled out any negotiations on this week's ouster of Honduran President Manuel Zelaya, demanding the unconditional return of the president to his office. The visiting OAS delegation will not discuss any concessions.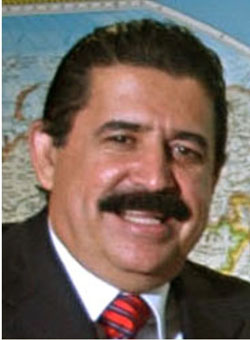 Manuel Zelaya
One of the delegation's top members says he doesn't expect the situation to be resolved, and that sanctions against the nation are very likely in the next few days. The interim government head Roberto Micheletti said the delegation would be welcomed, though it does not intend to meet with him.
The Honduran military captured and ousted Zelaya on Sunday, chasing the leftist president to Costa Rica. The military says it was ordered to act by the Supreme Court, and the new government says it wants to provide evidence to the OAS that Zelaya was ousted for violating the nation's constitution.
Zelaya has been threatened with arrest if he returns to the nation, though he said that he intended to do so. The United States has denied any role in the ouster, though it has also declined to label it a coup, as this would require them to suspend all aid to the government.
Last 5 posts by Jason Ditz