Pakistani forces bombarded suspected hideouts of the Tehreek-e Taliban Pakistan chief Baitullah Mehsud in South Waziristan today, killing at least 20 militants and wounding 15 others. The militants retaliated by ambushing an army convoy in North Waziristan, killing three.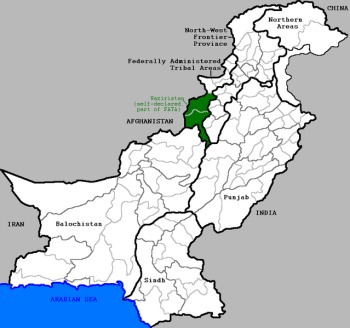 The military's offensive into the tribal region is aimed at asserting formal government control over tribes with a long history of independence used to an indifferent government quietly ruling them from afar. It also aims at knocking out Baitullah, who has taken a large share of the Mehsud tribe into direct opposition to the government's rule.
Top aides to President Barack Obama say that the battle in Waziristan is going to be key as the Pakistani government tries to establish some measure of credibility after years of humiliating defeats against the militants. The Pakistani government sees it as a matter of survival.
The Waziristan offensive was seen as the next major test for the military after spending over a month fighting a much small TTP auxiliery in the densely populated Swat Valley. That offensive has driven three million civilians from their homes, and is continuing to this day.
Last 5 posts by Jason Ditz