Secretary of Defense Robert Gates today promised that in the effort to win the hearts and minds of the civilian populace of Afghanistan, NATO would put an increased emphasis on reducing the number of civilians being killed by international forces.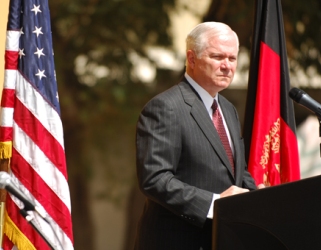 Defense Secretary Robert Gates
Meanwhile, during fighting in Afghanistan's Kunar Province NATO forces fired artillery at civilians, killing two and wounding five others. NATO declined to provide further details about the killings, but said it was investigating the matter.
Not long after, a NATO military vehicle crashed into a civilian truck in Khas Kunar, killing four other civilians. The growing number of civilian deaths seem not to be slowing down the repeated promises of Obama Administration officials that they have changed their tactics.
Just days ago a US air strike was reported to have killed 10 civilians in Ghor Province. Earlier in the week it was also reported that a US soldier had thrown a hand grenade into a crowd of civilians in the Kunar Province, though the US is denying this claim.
Last 5 posts by Jason Ditz