A report from the Air Force's National Air and Space Intelligence Center is alleging that the Iranian government's "ambitious ballistic missile and space launch development programs" could allow them to have an ICBM capable of hitting the United States by 2015.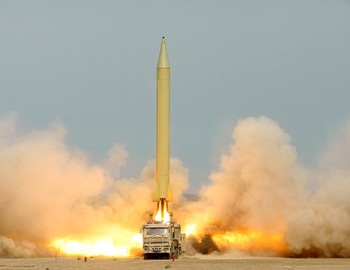 One of Iran's Shahaab-3 missiles
The allegation seems to be related to one made yesterday by Lieutenant General Patrick O'Reilly, who claimed Iran and North Korea have been working together to improve their ballistic missile capabilities.
Yet Lt. Gen. O'Reilly claimed of such sharing "we've seen it for years." Yet the claims Iran is about to make an enormous leap forward in missile technology seems to break down under closer scrutiny.
In July of 2003, Iran unveiled the Shahaab-3, which at the time had about an 800 mile range. Six years later the Shahaab-3 remains the pride of the nation's ballistic missile arsenal, and the range has been extended to roughly 1,200 miles. It seems unfathomable that the nation, which was only able to muster an increase of a few hundred miles in six years, will suddenly be able to increase its range by several thousand miles, which would be necessary for the missiles to hit the United States.
Last 5 posts by Jason Ditz