Over 100 Taliban have been killed as the Pakistani military has launched an offensive in the North-West Frontier Province (NWFP) district of Bannu. Troops are using artillery and helicopter gunships to attack what they described as "Taliban positions."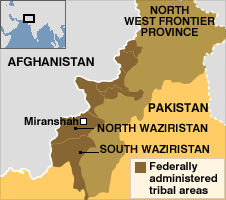 The district lies along the border of the restive North and South Waziristan Agency, and the military says between 600 and 800 militants have poured into Bannu from North Waziristan to contest the offensive. The military has linked the operation to last week's kidnapping of 30 buses full of students in North Waziristan, attacking tribesmen who reportedly refused to hand over militants involved in the ambush.
The military then attacked the tribesmen, arresting some 70 of them, and sparking the bombardment of the region. The offensive has served to create yet another front in the NWFP, while the military continues with its attacks in the Swat Valley and faces attacks in Peshawar.
President Asif Ali Zardari has said he intends to expand the offensive across much of the nation's northern frontier, with South Waziristan widely expected to be the next target. For the time being however, the military seems mired in yet another messy offensive in Bannu.
Last 5 posts by Jason Ditz