Earlier this month, Congressional Democrats pulled funding from the "emergency" war funding bill which was to be used in the Obama Administration's pledge to close the detention center at Guantanamo Bay. Today, a top Democratic official revealed that the Senate Democrats will block funding for the Guantanamo closing going forward.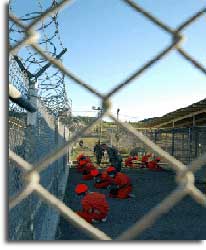 President Obama's pledge to close the facility has been put into serious doubt by his declaration last week that he was going to restart the military tribunals, which he had previously ordered halted pending the facility's closure.
The administration has yet to provide a plan to Congress for the closure of the facility, and it is speculated that the Senate may reconsider funding if it approves of a future plan. At the same time, Republicans are pushing an amendment which would bar the 241 detainees from ever seeing trial on American soil.
Senator Mitch McConnell (R – KY) says he believes "shuttering this facility now could only serve one end: and that is to make Americans less safe than Guantanamo has." Republicans have been quite encouraged by the administration's willingness to go back on its previous promises of change and transparency, they will likely have another reason to take heart, as one more promise goes unfulfilled.
Last 5 posts by Jason Ditz