UN nuclear watchdog chief Yukio Amano said on Wednesday there continues to be some "activity" around Iran's Parchin military site, although he refused to say what kind of activity or to make any direct allegations that Tehran is hiding anything illicit in its nuclear program.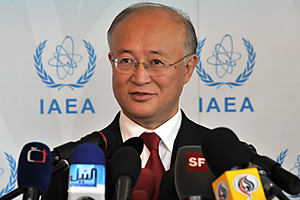 The International Atomic Energy Agency (IAEA) and its chief, Amano, continue to push Iran to allow inspections at Parchin, following accusations that Iran was trying to clean up evidence of weaponization of its nuclear program. The activity IAEA officials are seeing it from satellite imagery.
But Parchin is a military site that is not a declared nuclear site, and therefore not under IAEA jurisdiction. IAEA inspectors continue to constantly inspect all of Iran's declared nuclear enrichment sites and to this day have never found any evidence that nuclear material from these sites has been diverted elsewhere for possible military use.
Many Western observers suspicious of Iran's nuclear program, which they continue to insist is for purely peaceful uses only, use the unspecific Parchin accusations, along with Iran's increasing uranium enrichment capacity at its Fordow plant, as indirect evidence that Iran is working towards nuclear weapons.
But the IAEA's latest report, and Israeli intelligence, conclude that Iran has diverted much of its enriched uranium to peaceful scientific research and medical isotopes, as it promised.
Despite the IAEA's estimate that enrichment capacity has increased, senior Israeli defense officials told Haaretz that "Iran has moved the wall back by eight months at least."
And regarding inspections at Parchin, international observers should not be surprised that Iran hasn't followed every demand and dictate of the inspectors and the Western-led negotiators.
The so-called diplomacy with Iran has been "predicated on intimidation, illegal threats of military action, unilateral 'crippling' sanctions, sabotage, and extrajudicial killings of Iran's brightest minds," writes Reza Nasri at PBS Frontline's Tehran Bureau. These postures have spoiled the chance to resolve this issue promptly and respectfully.
After the failed talks in 2009 and 2010, wherein Obama ended up rejecting the very deal he demanded the Iranians accept, as Harvard professor Stephen Walt has written, the Iranian leadership "has good grounds for viewing Obama as inherently untrustworthy." Former CIA analyst Paul Pillar has concurred, arguing that Iran has "ample reason" to believe, "ultimately the main Western interest is in regime change."