The United States on Monday denounced the Palestinian bid to upgrade its status at the United Nations to a sovereign country, claiming it would "jeopardize the peace process."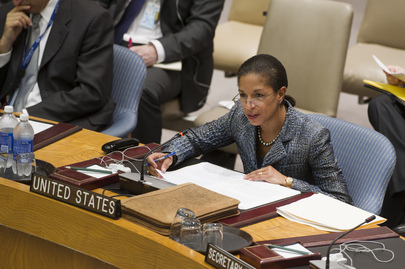 The US position in this regard hasn't changed from last year, when Palestinian authorities tried to win recognition of full statehood at the UN. This year, Palestinian President Mahmoud Abbas has announced, they will aim to be recognized as "a non-member state."
"Unilateral actions, including initiatives to grant Palestinians non-member state observer status at the United Nations, would only jeopardize the peace process and complicate efforts to return the parties to direct negotiations," the US mbassador to the United Nations, Susan Rice, told the Security Council on Monday.
But the so-called "peace process" is a failed model that tries to maintain the illusion of fair and equal negotiations while the US supports Israel in its continuing campaign of expanding Jewish settlements, destruction of Palestinian homes, displacement, and denial of Palestinian rights.
"The average Palestinian has also lost hope in the peace process," Barak Ravid writes in the Israeli daily Haaretz. "He's given up hopes of ending the Israeli occupation" and the upcoming Israeli elections, in which right-wing Prime Minister Benjamin Netanayhu is expected to win re-election, has "only served to enhance the depression" and apathy in Palestine.
"Any efforts to use international fora to prejudge final status issues that can only be resolved directly by the parties will neither improve the daily lives of Palestinians nor foster the trust essential to make progress towards a two state solution," Rice said.
The translation of this is that since virtually the entire world agrees with the Palestinians on the key elements of a political settlement and disagrees with the US and Israel – who stand virtually alone – the issue cannot be effectively decided by referendum.
The Palestinian bid for non-member state status will likely be debated in mid-November, after the US election. But even without campaign pressures, the Obama administration maintains the position that Palestinian rights to statehood must continue to be blocked at the United Nations.
Last 5 posts by John Glaser