Secretary of State Hillary Clinton took full responsibility on Monday for the inadequate security at the US Consulate building in Benghazi, Libya at the time of the militant attack that killed four Americans there last month.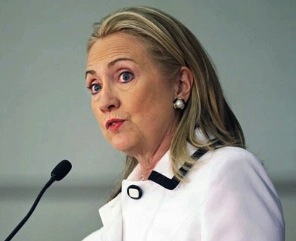 "I take responsibility" for what happened on September 11 in Benghazi, she said in an interview with CNN's Elise Labott.
The statement comes after a full month of silence from Clinton, ultimate the one in charge of all US diplomatic buildings abroad. But her admission of guilt seemed specifically crafted for shrewd political purposes, to lift the heavy criticism the Obama administration has faced at a critical time in their campaign for reelection.
"I want to avoid some kind of political gotcha," she added, though, noting the looming election.
Clinton insisted President Barack Obama and Vice President Joe Biden are not involved in specific security decisions at US consulate buildings.
Indeed, at the vice presidential debates last week, Biden said "We weren't told they wanted more security. We did not know they wanted more security there," when asked about the security requests from consulate officials that went ignored.
It is widely predicted that Clinton will not be serving a second term as Secretary of State if President Obama is reelected, and her belated admission of guilt appears to be an attempt to accept the blame politically and ease the criticism on Obama and Biden.
Last 5 posts by John Glaser