Said al-Shihri, allegedly the second-in-command of al-Qaeda in the Arabian Peninsula (AQAP), has been killed in an operation in southern Yemen, government officials say.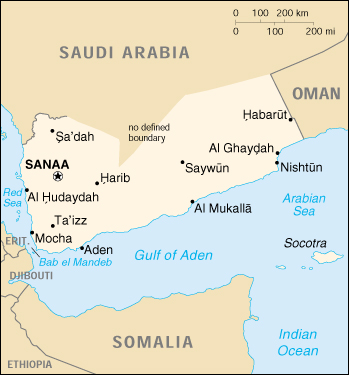 Al-Shihri was reportedly killed with six others in the Hadramawt area last Wednesday in what some Yemeni officials said was airstrikes coordinated by the Yemeni government. Other anonymous officials claimed the strike was a US drone.
The Yemeni Ministry of Defense confirmed al-Shihri was killed along with six other alleged militants, but would give no further details on the nature of the operation. Al-Shihri was reportedly a Saudi national who was released by the US from Guantanamo Bay in 2007.
There is a longstanding Yemeni policy of secretly taking credit for US drone strikes, so as to not stoke resentment and extra attention to the secret US drone program. But time after time it has been revealed that US drones are the ones dropping the bombs.
There is no way to confirm beyond Yemeni government say-so that al-Shihri was actually killed and that the six others killed were militants. The Yemeni government also has a long history of boasting about success in fighting back al-Qaeda, even as parts of the Yemeni regime collaborates with and supports al-Qaeda's survival in order to milk more US aid and funding.
The US's drone war in Yemen is likely "creating more enemies than [it is] removing from the battlefield," according to Robert Grenier, former head of the CIA's counter-terrorism center from 2004 to 2006.
Indeed, after a US drone strike last week in Yemen killed killed 13 civilians, including three women, CNN reported that drone strikes often "work in favor of the militant group, helping them recruit new operatives." Yemeni activist Nasr Abdullah told CNN he "would not be surprised if a hundred tribesmen joined the lines of al Qaeda as a result of the latest drone mistake. This part of Yemen takes revenge very seriously."
Last 5 posts by John Glaser