Republican presidential candidate Mitt Romney said in an address on Tuesday that President Obama has not been enough of an ally to Israel, and Israelis deserve a more loyal US president.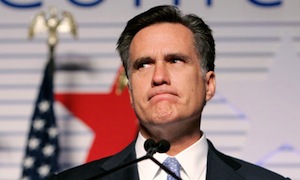 Speaking at the Veterans of Foreign Wars National Convention in Reno, Nevada on his upcoming visit to Israel, Romney played the old, predictable political card of who's a more committed, blind follower and supporter of Israel. It was done purely for political points, and had no substantive motivation or relation to reality.
"He has undermined their position, which was tough enough as it was. And even at the United Nations, to the enthusiastic applause of Israel's enemies, he spoke as if our closest ally in the Middle East was the problem," Romney added.
Romney then said that the "people of Israel deserve better than what they have received from the leader of the free world."
Obama's staunch support of Israel is never enough for his ideological neoconservative detractors. As Jacob Heilbrunn at the National Interest has written, Obama "condemned the Palestinian drive for statehood at the United Nations. Not enough. He awarded Israel $3 billion in military assistance, an all-time high. Not enough. He repeatedly avowed his commitment to Israel's security and well-being. Still not enough."
Or, as Vice President Joe Biden said in his response to Romney's charges, "We've provided record levels of security assistance, funding for the Iron Dome missile defense system that intercepted nearly 80 percent of the rockets recently fired from Gaza, close collaboration on longer range missile defense systems, the largest joint military exercises in history, the most consistent and comprehensive exchanges ever between our top political, defense, security and intelligence officials."
Biden added, "And, contrary to Governor Romney's outrageous accusation that the President joined in the chorus of insults levied against Israel at the United Nations, President Obama has stood up repeatedly, publicly and often alone against efforts to delegitimize Israel at the UN and around the world."
America's unwavering and excessive material and diplomatic support for Israel, which ends up aiding and justifying all kinds of crimes against the Palestinian people, has proven patently contrary to US interests. This s0-called special relationship is destructive to the stability of the Middle East and to any kind of viable political settlement to the Israeli-Palestinian conflict.
Last 5 posts by John Glaser