Israeli Prime Minister Benjamin Netanyahu denounced German poet and Nobel Prize laureate Guenter Grass on Thursday for writing that Israel is a threat to world peace and for calling for international oversight of both Israeli and Iranian nuclear facilities.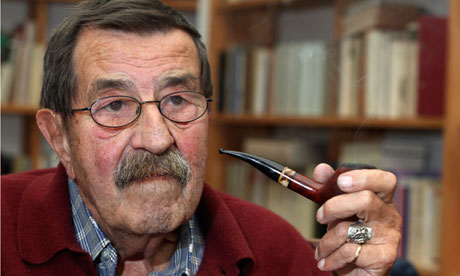 The 84-year-old Grass published a poem in a German newspaper on Wednesday in which he said "the nuclear power Israel is endangering the already fragile world peace" and called for "unhindered and permanent control of Israel's nuclear capability and Iran's atomic facilities through an international body."
Israel has for decades refused to even admit it has vast stockpiles of nuclear weapons, even as it hypes a threat from weak, isolated Iran. The fact that Iran has no nuclear weapons program has not stopped Israel's leadership from hyping that threat and issuing threats of preemptive military strike.
Grass said he wrote the poem, titled "What Must Be Said," after news that Berlin sold Israel submarines that could launch nuclear warheads and that could potentially be used in an attack on Iran, which Israeli leaders have repeatedly threatened. Grass also noted that for years he refrained from criticizing Israel for fear of being labeled an anti-Semite.
Netanyahu angrily responded: "Guenter Grass' shameful moral equivalence between Israel and Iran, a regime that denies the Holocaust and threatens to annihilate Israel, says little about Israel and much about Mr. Grass." He also noted that Grass, late in his career, admitted to serving in the Nazi paramilitary unit the Waffen SS. "So for him to cast the one and only Jewish state as the greatest threat to world peace and to oppose giving Israel the means to defend itself is perhaps not surprising," the Israeli leader added.
But Grass's poem seems only to be controversial because of German history, as opposed to any objection to the substance of his arguments. Indeed, leading figures in the U.S. military establishment have recently made similar arguments as well as some in the Obama administration itself.
Last 5 posts by John Glaser