This week, a military court in Bahrain sentenced a policeman to more than 12 years in prison for joining protests against the royal family and the government barred a U.S. human rights activist from observing the trial of medical workers.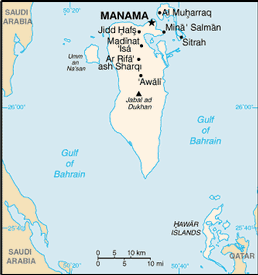 Ali al-Ghanami, a Shiite police officer, broke ranks and joined popular protests against the Bahraini regime in February. His brother told the BBC that Ghanami witnessed the killing of protesters and said he "cannot work for a killer institution."
After Saudi troops marched into Bahrain to help crush protests, Ghanami went into hiding and six weeks later was detained and placed in solitary confinement for months. His verdict on Monday sentenced him to seven and a half years for taking part in 11 rallies and for absence without leave, three years for incitement to hatred against the government and two years for disturbing the peace.
Also on Monday, the Bahraini authorities banned a U.S. human rights worker from observing the ongoing trial of dozens of medical professionals who were detained and charged for the crime of treating as patients protesters who had been injured by the government.
The trial has been fraught with missteps by the government prosecutors, which explains why they refuse to let rights activists from the West observe. Richard Sollom, deputy president of the US-based Physicians for Human Rights, was stopped at Bahrain international airport.
"We can see now that not much has changed," he told reporters.
An independent commission in Bahrain recently found that torture has been systemic since protests broke out last year. U.S. support for the dictatorship has remained assertive, despite attacks on unarmed demonstrators and generalized repression, which continue to this day.
Last 5 posts by John Glaser