The Pakistani Taliban announced Saturday that they were in peace negotiations with the Pakistani government and that at least a tentative deal to end hostilities between the two was close.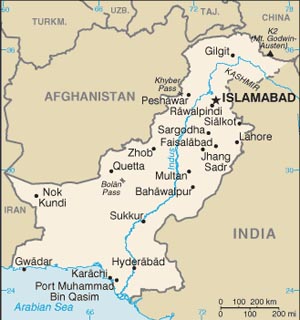 The announcement seemed to directly exploit the disintegrating Pakistani relationship with the U.S., which has gradually dissolved to utter distrust and vitriol over the past few months. The latest infraction, when a U.S. airstrike bombed a Pakistani military outpost and killed 24 soldiers, prompted Islamabad to expel Americans from a Pakistani airbase and close NATO supply routes to troops in neighboring Afghanistan.
The terms of the peace deal between the Pakistani Taliban and the government were not specified, but past deals have basically amounted to nonaggression pacts where the militants are allowed to operate in certain border regions free from attack from the Pakistani army.
Such tacit agreements have previously garnered heavy criticism from the U.S., who accuses elements of the Pakistani government of having ties to terrorists who wage an insurgency against U.S. troops in Afghanistan from these safe havens along Pakistan's western border.
Nevertheless, U.S. economic and military support to the Pakistani government persists, which from the perspective of Washington buys them the ability to consistently violate Pakistani sovereignty with military incursions onto Pakistani territory and an expansive drone war in the lawless Northwest Frontier Province. Almost $3 billion is allocated to Pakistan in fiscal year 2012.
But this strategy, coupled with various transgressions by the U.S., has only harmed the relationship. "As Pakistan distances itself from a key ally in the war on terror, it is only natural that the Taliban should make its position flexible and reach out to it," said Ishtiaq Ahmed, a professor of international relations at Quaid-e-Azam University Islamabad. "The timing is right, the political winds in Pakistan and crumbling relations between the United States are narrowing the space between the Taliban and the state."
Last 5 posts by John Glaser