Condemns Sanctions in Sign of Growing Impatience
by Jason Ditz, September 02, 2012
Israeli Prime Minister Benjamin Netanyahu, reported to be planning a war against Iran sometime in the next two months, again slammed the international community for not having threatened Iran more often, saying that it was time for the world to set a "clear red line."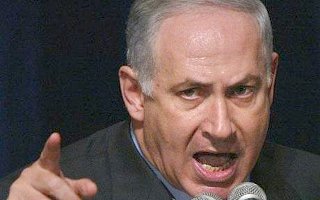 "Iran does not see international resolve to stop its nuclear program," Netanyahu insisted, in what officials are saying is a sign of his growing impatience with the current state of regular threats and sanctions but no actual attacks.
Netanyahu reportedly reiterated to his cabinet that he believes sanctions have "failed," and reportedly got into a shouting match with US Ambassador Dan Shapiro last week, lashing him for not having attacked Iran already.
Netanyahu was said to be furious with Shapiro, and the US in general, saying he was outraged that the Obama Administration had made efforts to talk him out of attacking Iran instead of focusing on threatening Iran. He is said to have told Shapiro that "time has run out" for diplomacy.
Last 5 posts by Jason Ditz