Protests were reported today in front of the courthouse as a Russian judge handed down a two year prison sentence to the three members of all-female punk band Pussy Riot on charges of "hooliganism" related to a performance at the Cathedral of Christ the Savior in Moscow.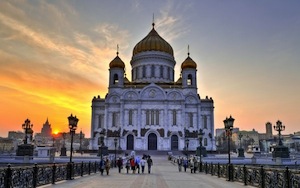 The women had performed a song at the cathedral urging the Virgin Mary to become a feminist and oust President Vladimir Putin. They were accused of blasphemy and "doing the work of Satan" by Russia's religious leader Kirill I.
Though in theory the charges were based entirely on performing a religiously offensive song at the cathedral and not on its political content, most agree that the prosecution's aggressiveness and attempts to seek harsh sentences are motivated by making an example of Putin's critics.
The case has sparked enormous debate within Russia about the extent of legal support for the church, and vice versa. Polls after the case showed that 58 percent of Russians felt the sentence was too harsh.
Last 5 posts by Jason Ditz