Officials from both Georgia and Russia traded accusations that the other is building up forces along the border between Georgia and the enclaves of South Ossetia and Abkhazia, with each saying the other is preparing "provocations."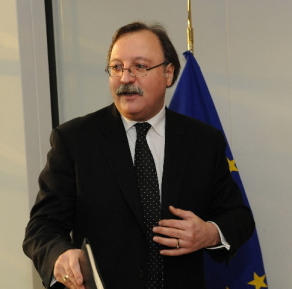 European Union monitors confirmed additional Russian troops and hardware near the border recently, but said that the Abkhazia forces had already moved back. Russian officials described the buildup as "precautionary measures to ensure security" during a tense periods, with Foreign Ministry spokesman Andrei Nesterenko saying they were meant to dissuade Georgia from launching another military action to draw attention away from opposition protesters calling for Georgian President Saakashvili's ouster.
Russian Foreign Minister Sergei Lavrov also criticized the planned NATO military exercises to be held in Georgia next month, saying they wouldn't "send the right signal to those sincerely wishing to achieve stability in the Caucasus." Georgian Foreign Minister Grigol Vashadze said his nation had every right to stage the war games, and doubted that Russia would resort to military action to stop them.
A brief August war between the two nations led to Russian recognition of Abkhazia and South Ossetia as independent nations, though Georgia and many Western nations have refused to recognize them. Georgia is a prospective NATO members, though questions about its crackdowns against opposition groups have stalled its entry.
Last 5 posts by Jason Ditz